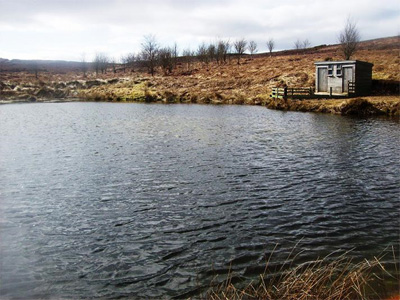 We are pleased to announce the opening of a new fishing pool. Totally private and secluded for the trout fisherman seeking a 'getaway for the day'...The Lodge Pool
Requiring approach via. 4 Wheel Drive we are pleased to arrange transport.
Although within our grounds here at 'Lakehill', this pool is completely seperate from our 'big' lake and is not overlooked, involving a drive across marvellously open scenery and a place where one can find complete solitude 'far from the maddening crowd'.
Fancy your own pool for the day? Or maybe a family day along with a barbaque or a camp spot for the night? Maybe your own group of friends and family fishing the pool together and not sharing with other anglers?
Perhaps with your own ghillie or one to one tuition?
Want lunch server bank side? Or a picnic lunch to take along?
We shall be only too pleased to fulfil your every wish and make your day one to remember.
Contact us and arrange your day - We shall be only too pleased to make your day perfect.
Call Charlie on 07538013883 - Treat Yourself!
Advance Booking Essential!